Finnix 91.0 release notes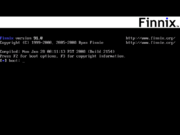 Vitals
Linux 2.6.24 (based on Debian 2.6.24-1)
Debian testing (2008-01-21)
Development codename: Seymour
Build: 2154 (x86), 176 (PowerPC)
Download
MD5 checksums
9a2c6e19da28c3aa33b34ad0ad31aa0a  finnix-91.0.iso
86abba2f3f786db90f65466f497dd9a2  finnix-ppc-91.0.iso

GPG signatures
finnix-91.0.iso
-----BEGIN PGP SIGNATURE-----
Version: GnuPG v1.4.6 (GNU/Linux)

iD8DBQBHnY4xKZYQqSA+yiURAlNdAJ0bpFbmHeQ+o66FUBznt5wdT6Ez7wCfajuF
TRKpEaQC4aW7xwr1cpkdU1I=
=9SD5
-----END PGP SIGNATURE-----
finnix-ppc-91.0.iso
-----BEGIN PGP SIGNATURE-----
Version: GnuPG v1.4.6 (GNU/Linux)

iD8DBQBHnZsNKZYQqSA+yiURAiDXAJ44zpvZwLMVOhdF3ODmHttAm+8RsQCfW7gO
LM3JzMHKnZSORIflYrTTE5k=
=iwiO
-----END PGP SIGNATURE-----
Known issues
If a software RAID array is detected, booting will go into an endless cycle. If this occurs, boot as "finnix noraid" or "finnix64 noraid".
Major new features
Automatic 32-bit/64-bit detection (x86)
If you press "enter" at the boot screen of Finnix 91.0 x86, the boot loader will now detect if you have a 64-bit capable CPU, and will load the appropriate kernel. You can still force 32-bit or 64-bit by entering the "finnix" or "finnix64" boot profiles. Note that this is for the x86 Finnix CD only; PowerPC G5 users will still have to enter the "finnix64" boot profile manually, as the yaboot boot loader does not have this capability.
Stackable RAID/LUKS/LVM
While RAID, LUKS (encryption) and LVM detection have been in Finnix for awhile now, they were loaded in a certain order, and some configurations were not detected as a result. With Finnix 91.0, most configurations should be detected. For example, an encrypted LVM set on top of two RAID disks should be set up automatically.
Bug fixes
While not a "major new feature", several bug fixes were made for Finnix 91.0, including LVM/LUKS fixes, and multiple-level /dev block device detection corrections.
Changes
90.0 -> 91.0
dist-upgrade
initrd: migrated from classic initrd model to initramfs

Moved /sbin/init to /init
Upgraded to BusyBox 1.8.2 (needed for switch_root)
Replaced pivot_root init code with switch_root

initrd: new default nameservers for non-DHCP NFS name booting
Removed hard drive (non-initrd) installation capability
Support booting from vanilla-supplied paravirt Xen (2.6.23 and beyond)
Fixed automatic LUKS/LVM detection
Added stackable RAID/LUKS/LVM detection
Added packages: ntfs-3g
Removed packages: unzsplit, zsplit, scrub (not maintained by Debian, abandoned upstream, functionality fulfilled by other packages)
Subdirectory block devices (/dev/cciss, etc) fixed in several places
Kernel upgrade, 2.6.24-1-finnix
Upgraded isolinux, added default64 syslinux option