Finnix 92.0 release notes
Jump to navigation
Jump to search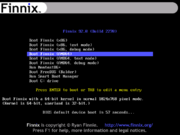 Vitals
Linux 2.6.25 (based on Debian 2.6.25-4)
Debian testing (2008-06-15)
Development codename: Shawano

Shawano was originally misspelled as "Shawno" in early builds.

Build: 2270 (x86), 187 (PowerPC)
Download
MD5 checksums
71756b993997aebd6eda0d9b6d3cd32c  finnix-92.0.iso
71bdcb8ed9d56552557c364ac868969b  finnix-ppc-92.0.iso

GPG signatures
finnix-92.0.iso
-----BEGIN PGP SIGNATURE-----
Version: GnuPG v1.4.6 (GNU/Linux)

iD8DBQBIVNOMKZYQqSA+yiURApMoAJ43J8PxZ9tpy8+0cWtcWTI72sGOzgCcCZZm
YbWL14xEmhozkMvpiPcj2cw=
=aV+t
-----END PGP SIGNATURE-----
finnix-ppc-92.0.iso
-----BEGIN PGP SIGNATURE-----
Version: GnuPG v1.4.6 (GNU/Linux)

iD8DBQBIVNOJKZYQqSA+yiURAjpQAJ9KsPC2RQH+NQ2dUrh3UHxvT2m82wCfb9wa
fIzy2sfl7tkOZR0fZnsu1UQ=
=nrFm
-----END PGP SIGNATURE-----
Known issues
Major new features
OpenSSL security vulnerability fix
Finnix 92.0 contains the fix to the Debian OpenSSL predictable RNG vulnerability. A reminder that all versions of Finnix from 89.0 to 91.1 (inclusive) contained this vulnerability, so please keep this in mind when running OpenSSH servers on vulnerable versions.
Note that OpenSSH/OpenSSL/OpenVPN blacklists are not included with Finnix, for size reasons. If you wish to utilize these blacklists, simply reinstall the packages (apt-get update && apt-get --reinstall install openssh-blacklist openssl-blacklist openvpn-blacklist).
New Linux kernel
Linux 2.6.25 is included with Finnix 92.0.
A new graphical boot menu is now available. This boot menu will still perform 32-bit/64-bit autodetection, and options such as toram and testcd can still be added to boot profiles by pressing [TAB] over a desired boot profile.
Changes
91.1 -> 92.0
dist-upgrade
Upgraded kernels to 2.6.25 (Debian 2.6.25-4).
apt: APT::Install-Recommends "false";
Added "notfound", which checks for common programs not found in Finnix (for example, try typing "lynx"; it will tell you to use elinks instead).
Added support for multiple console= boot command options (Xen fix).
finnix-autoconfig: Added sshd_password boot option
Removed: aptitude/tasksel (now pulling in large dependencies, unfortunately), pcscd/gettext/tcsh/make (no longer required by any packages), lynx/links (use elinks instead).