Finnix 92.1 release notes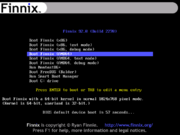 Vitals
Linux 2.6.26 (based on Debian 2.6.26-7)
Debian testing (2008-11-23)
Development codename: Crandon
Build: 2296 (x86), 192 (PowerPC)
Download
MD5 checksums
93e48235bac2df931baf0604c24a1b34  finnix-92.1.iso
069f0f5e7f36a8a02974090493ee896b  finnix-ppc-92.1.iso

GPG signatures
finnix-92.1.iso
-----BEGIN PGP SIGNATURE-----
Version: GnuPG v1.4.6 (GNU/Linux)

iD8DBQBJKmIMKZYQqSA+yiURAnnCAJ9YFN5JyopaxWxyb5eivE4YXffBEQCgjqBe
mqauWlEhvHIKwj+IhI2VqJU=
=QIg3
-----END PGP SIGNATURE-----
finnix-ppc-92.1.iso
-----BEGIN PGP SIGNATURE-----
Version: GnuPG v1.4.6 (GNU/Linux)

iD8DBQBJKmmxKZYQqSA+yiURAiY+AJ94Di1+LTMxWdK811Qn5hqIp+NvrgCfcyNF
sodmxsIbfinO99C3lWr7H1w=
=gpaA
-----END PGP SIGNATURE-----
Known issues
Major new features
New Linux kernel
Linux 2.6.26 is included with Finnix 92.1.
Changes
92.0 -> 92.1
dist-upgrade
Upgraded kernels to 2.6.26 (Debian 2.6.26-7).
Added space after boot parameters in x86 boot menu. To add extra boot parameters, simply select a menu item, press Tab, then start typing extra parameters.
Re-added F2 cheat codes x86 boot screen, which did not carry over in the menu transition.
Removed dvdrtools (functionality is replicated in wodim).
Added emad, an action-adventure side-scrolling RPG platformer about a boy and his loving pet pig in 38th-century Scotland.