Balder
Jump to navigation
Jump to search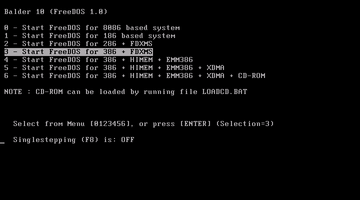 Balder is a single-disk DOS utility distribution, based on FreeDOS. Balder was created in the style of FreeDOS ODIN, and includes many DOS utilities, as well as automatic CD driver loading.
Download Balder
Why?
With the release of FreeDOS 1.0, Balder was created as a "LiveCD" DOS disk equivalent of Finnix. Previous Finnix releases included FreeDOS ODIN 0.7, but Balder 10 has been used for Finnix 89.0 and beyond.
Is Balder a replacement for FreeDOS ODIN?
Yes and no. Balder performs the same function as ODIN, but I am sure that ODIN will eventually have a release based on FreeDOS 1.0.
Will there be other Balder versions for different sized floppy disks?
Perhaps, but a 1.44MB image was a good place to start.
Why the name "Balder"?
In Norse mythology, Balder is the (second) son of Odin, and the god of innocence, beauty, joy, purity, and peace. For more information, see the Wikipedia entry.