Finnix 100 release notes
Jump to navigation
Jump to search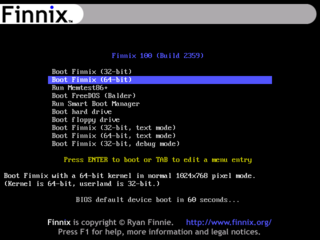 Vitals
Linux 2.6.32 (based on Debian 2.6.32-26)
Debian testing (2010-10-26)
Packages: x86 (371)
Template:Dev codename: Oconto
Build: 2359 (x86)
Download
MD5 checksums
f100ffa1d470b7d119979c58f18bb6b1  finnix-100.iso

GPG signatures
finnix-100.iso
-----BEGIN PGP SIGNATURE-----
Version: GnuPG v1.4.9 (GNU/Linux)

iEYEABECAAYFAkzGuUYACgkQKZYQqSA+yiW9KQCcCAX1QEvzRT9xwbtWg8AthrLF
AYQAniRG0RBwYwaN5hzrBT3WH/lyBj/G
=I4Lg
-----END PGP SIGNATURE-----
Major new features
PowerPC support dropped
PowerPC will no longer be a release goal for Finnix, with PowerPC builds not expected to be produced in the future. The last released version of Finnix-PPC, Finnix-PPC 93.0 is still usable with a wide range of PowerPC systems and can be used for PowerPC system administration.
New version scheme
With the release of Finnix 100, Finnix will be using simple incrementing versions for future versions (101, 102, etc), rather than a major/minor version scheme.
New Linux kernel
Linux 2.6.32 is included with Finnix 100. Upstream Debian (and Ubuntu) sources now contain both UnionFS and AUFS, meaning Debian/Ubuntu kernels could be used directly with Finnix. (Finnix still uses modified kernels to reduce size.)
finnix-thumbdrive removed, UNetbootin recommended
The finnix-thumbdrive utility has been removed, and it is suggested that you use UNetbootin instead. UNetbootin can take a Finnix ISO and write it to a bootable USB drive from your Windows or Linux desktop, without the need to boot Finnix.
Changes
93.0 -> 100
dist-upgrade
Upgraded kernels to 2.6.32 (Debian 2.6.32-26).
Upgraded Memtest86+ to 4.10.
Many fixes related to Debian and Linux upgrades.
Changed auto mount creation point from /mnt to /media.
Fixed inclusion of network module dependencies when generating a netboot initrd.
Removed finnix-thumbdrive (use UNetbootin instead)
Switched from unionfs2 to aufs for union filesystem (aufs is included in Debian kernels now; technically Finnix can now be run on "stock" unmodified Debian kernels).
Added ability for compressed root filesystem (/FINNIX directory) to be placed inside initrd
Added ability to skip shutdown/reboot countdown by pressing Enter during the countdown
Changed default DNS servers from defunct provider to Google Public DNS