Finnix 107 release notes
Jump to navigation
Jump to search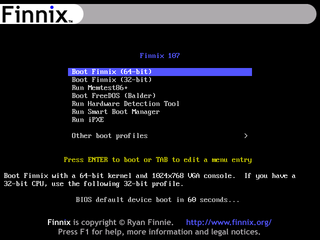 Vitals
Linux 3.6
Debian testing (2012-12-23)
Development codename: Oconomowoc
Download
Major new features
Linux 3.6
Finnix 107 includes Linux kernel 3.6, and includes a fix for the (overhyped, it seems) ext4 corruption bug.
Faster startup, faster shutdown
Average Finnix startup times have been reduced even further by the cleanup of legacy code. In addition, the shutdown procedure, which largely has not changed in years, got a revamp and is now noticeably quicker.
isohybrid support included
The x86 ISO is now being built with the isohybrid method, meaning you can now write the ISO directly to a USB flash drive at the block level to boot it.
findiso support added, grub-finnix utility released
Finnix 107 includes support for searching for and mounting a Finnix ISO on a filesystem (findiso=/path/to/finnix-107.iso). This can be used to create a GRUB 2 configuration on a server/workstation to boot a Finnix ISO directly. To that end, I have released a utility for Debian/Ubuntu, grub-finnix, which hooks into the update-grub2 system to automatically handle building the necessary GRUB 2 config.
finnix-hwsubmit redesigned
The finnix-hwsubmit utility has been completely redesigned. The report format is now in a standardized machine-parsable yet easy to read format (MIME), you will be given a URL of the submitted report, and you can choose to make the report public. Public reports are available at http://hwsubmit.finnix.org/ .
New utilities included
A number of new packages have been included with Finnix 107, including: arping, bridge-utils, chntpw, cmospwd, ifenslave-2.6, sshfs, testdisk, udftools, zerofree. iPXE has also been added to the main x86 boot menu.
Errata
No known errata at this time.
MD5 checksums
f107ffc366b62bec6af3e2a4e3c43484  finnix-107.iso
f107ff39845b500a897dc3480cc0ef2d  finnix-ppc-107.iso

GPG signatures
finnix-107.iso
-----BEGIN PGP SIGNATURE-----
Version: GnuPG v1.4.12 (GNU/Linux)

iQIcBAABCAAGBQJQ10QIAAoJEH1vhcBDVubCnQIQAJIeNkJ122xJS4oo7HlebbuZ
kfBzsyM7mvAO6FIj/8QXcw3dw7BSV8etN9a/JiK4keQhHK2ZnjXn5x627ulSNTla
CHZzP4sPGO1n1Hlty8YwiSwRba2s9zuCCgl3nIk73bva2oo9hD0Ic/ZWVNxFINFb
Kq1ofcSnzpp0T0uijN6LzDrqYAUgrtJR061VJzhoPmEITKrlt0o5cDFRiZ4tZzDi
nmM8djVfst1fbl/kvPtVLwlBqISeM/KVq/wryzKPKF1WpA5sFgWDHtWgnlDeECJn
0bYR/Gy6FPjwmiRw+FvR1Le1s6g7Mk8KMJyb+/Kq0302XiumjGYIlKACgI2xZXGf
O2FI5TgYGd7+c/eJ4OMqaA5BNysWS0f4+EssRzughx3RZ9+cMDT1SVGmHzQmyunQ
ocZr/RD8QB1LhmP6Hq0ILVcfIR0YgSB5HNo/pbye7pjS1jmKMLkLzZK5F7grYvbU
5gNGNPpWXgVri07BuqHlz3Tgw/Z6ooh84bOEUZifmz1OM5zgG5Dk4xzUVhJKl838
HAm/4Lzj8r9Wlkww7RTk00vfVsXpal8GGjUodyYGd/0v4ONWmpyzN6cbaH6wFe8b
ItHQOCoFERXWQeySQodl3tjvzq9aED7WHNMRV28vsv/FTAqLyIrbiNWzte4Awq69
0lHkpxFS9oejynCX7BmW
=88W6
-----END PGP SIGNATURE-----
finnix-ppc-107.iso
-----BEGIN PGP SIGNATURE-----
Version: GnuPG v1.4.12 (GNU/Linux)

iQIcBAABCAAGBQJQ11JuAAoJEH1vhcBDVubCl/0P/3ocfmfppi0CJHNCKvraOqlN
MWMKxhBFVWr884z16abtcQy1i0XzQ1rXDW6QmYmnM/OxUkpfpADYkr6dnTdX/Q64
es0czfBO0HJCF6ldwnWwxw3siLzszvZ5qJ7igsuD6qMPBsSFs5FPZL8wxfDZXTnb
tjAxoMGqW+hE7L0lFA37GclvFXx5fG5K598+AqiA+OpkJOTX3MeFms8RsTjVKBRm
CM7Si4D9z6S6EnzxsRUdAomdDzf/BoRiZBeitE0SLo6FyBugBzofNwi7LRFWUtfe
gnr4ExrmPLDglObaHxn2jv2VbBvr38KQ9iKOQJsCiLi1DqAg2lGVQhLl0DaZk7/Z
WoSJq6W5cl4xtzTZ/00iwMYjrJ96bqD74ayAekgYioU8dUjlp8bJtYoVJ/YM1eIz
Kpvj5PEV2ZcJIDWfihpOFmUu/7wZqgC6vrCGr/8u3e4mWl1iTvLywoInWavrhVOi
4tqh7v/w/qo2xXnqkA6/rkY/tdRflbpUbkPmFi2PK6iYhT+dqvX58z2E7b8KwjXD
4XRYqrYnhNOyFsgnKQnat6XdE6gycyBp4ap86t6eiHx479CAp6Gyq02Avq2s0hVN
HbYTD05F6dAwEauNfuzB7CQrGgOjNpmOMZxIt8Y0hJauapZyghoxi9NJaC1hGL+e
1hSIuszFVms9mhTH+4oI
=XVw5
-----END PGP SIGNATURE-----
Changes
For a full list of changes, see the Finnix 107 Launchpad milestone list.