Finnix 93.0 release notes
Jump to navigation
Jump to search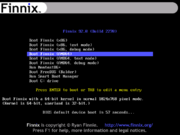 Vitals
Linux 2.6.30 (based on Debian 2.6.30-5)
Debian testing (2009-08-08)
Development codename: Neenah
Build: 2318 (x86), 197 (PowerPC)
Download
MD5 checksums
6f27cd81afce385aa6653ea19082fd5a  finnix-93.0.iso
c3deb19485a7cdba2f2bdc8da9a48b23  finnix-ppc-93.0.iso

GPG signatures
finnix-93.0.iso
-----BEGIN PGP SIGNATURE-----
Version: GnuPG v1.4.9 (GNU/Linux)

iEYEABECAAYFAkp+Zg4ACgkQKZYQqSA+yiWPgQCeOSFxm70I02ecCIBk7K63/mjM
3coAn2b16P8ZhINcbEU/k5wWmV2VcNn3
=a0jD
-----END PGP SIGNATURE-----
finnix-ppc-93.0.iso
-----BEGIN PGP SIGNATURE-----
Version: GnuPG v1.4.9 (GNU/Linux)

iEYEABECAAYFAkp+ZqQACgkQKZYQqSA+yiWNUgCdFn7EuY1V3I9Pr8zYlDRYUvtg
nIMAn13HZYTuPcK2d+KaZEMSrFdPVL5j
=CQrU
-----END PGP SIGNATURE-----
Major new features
New Linux kernel
Linux 2.6.30 is included with Finnix 93.0. SquashFS is now included with upstream kernels, so the only patch required for Finnix is now UnionFS.
Changes
92.1 -> 93.0
dist-upgrade
Upgraded kernels to 2.6.30 (Debian 2.6.30-5).
Upgraded Memtest86+ to 2.11.
Reordered main menu (x86).
Several fixes related to Debian and Linux upgrades.
Removed: evms (unmaintained upstream, obsolete, low penetration), unionfs-tools (incompatible with current UnionFS), cramfsprogs (not used by Finnix, low need outside Finnix), ftp (use lftp instead).