Support Finnix
Jump to navigation
Jump to search
Finnix is my personal project, but it does take resources to produce. If you would like to help the Finnix projects, there are a number of options available to you.
Monetary donations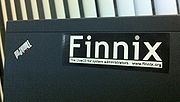 Error: Invalid hash.
Monetary donations help Finnix, and with a donation of $10 or more, I'll send you some stickers.
If you are not interested in stickers, you can still of course donate less than $10. A donation of any amount is gladly appreciated. Donations are not tax deductible.
Printed Finnix CD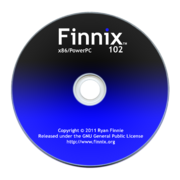 Donations of $20 or more will receive a printed Finnix CD. This CD is very high quality, and printed on a waterproof, high-gloss CD with the latest Finnix version. It is a combination CD, bootable on both x86 and PowerPC architectures, and is not available for download, only through donations. Of course, you will also receive Finnix stickers with this donation as well.
Error: Invalid hash.
Major sponsors

Host Virtual provides datacenter space and bandwidth for the main Finnix services, such as the finnix.org web site.

Linode provides development and testing resources, community support and a number of mirrors to the Finnix project.
Google ads
At the top-right corner of Finnix web pages, there is an unobtrusive Google ad block. If you see something that interests you, don't be afraid to click the ad. Every little bit helps.
Hardware donations
I am currently looking for the following hardware to better test and develop Finnix:
Intel-based Macs (Intel Mac mini or Mac Pro desired)
Please email ryan@finnie.org to make shipping arrangements, thank you.
Mirroring
New mirrors are always welcome, in order to distribute the download load. Please see the mirrors page for information about what it takes to become a mirror.
Donation contributors
Here are the individuals and businesses that have contributed funds to the development of Finnix. Contributions of $50 or more are in bold. Note that this list includes only donations; people who purchased merchandise from the old Finnix store are not listed.
| Contributor | Country | Amount |
| --- | --- | --- |
| Colin Jarvis | United States | $20.00 |
| Alexandre Petrenko | Canada | $15.00 |
| Robert Svec | United States | $20.00 |
| David Comeau | United States | $20.00 |
| Christian Stenzel | Germany | $15.00 |
| credil.org | Canada | $100.00 |
| Scott Dunlop | United States | $20.00 |
| Intevation GmbH | Germany | $700.00 |
| Johannes Rudolph | Germany | $15.00 |
| Christophe Dri | France | $5.00 |
| Dino Morelli | United States | $20.00 |
| Si Kwon Quan | Canada | $25.00 |
| Ethan Brown | United States | $10.00 |
| JAP van Vliet | Netherlands | $5.00 |
| J Konst | Netherlands | $18.00 |
| Ed Grether | United States | $5.00 |
| CFX Music | United States | $5.00 |
| Norbert Zagler | Austria | $20.00 |